Gone are the days when paper menus, order pads and cash registers were all the "technology" a restaurant required.

Today, driven by social distancing, fierce competition, tight margins and customer expectations for safe and fast service, tech plays a pivotal role in every aspect of the restaurant industry. In fact, technology is now the primary way customers connect with restaurants.
Adding technology into the ordering and payment processes speeds them along.
Digital menu boards offer up food options while kiosks, tablets and mobile apps provide multiple ways to place and pay for orders. Order confirmation displays ensure accuracy and put food in people's hands faster.
Providing a wider scope of technology also helps restaurants manage margins and compete more effectively. Kiosks, menu boards and the like can be programmed to upsell and provide touchless transactions, driving up the average check per order. Free wi-fi services Keep customers connected and communicating while waiting for food.
And that's just the technology that engages the customer. Your security systems and back-of-the-house operations and functions – inventory control, cost and cash management, financial reporting – all depend on networks, hardware and software that needs to run reliably to meet corporate and franchise expectations.
How Trextel Can Help


That's where we come in. Trextel can take those and other IT challenges posed by multi-site, multi-platform IT deployments in the quick serve and fast casual environments off your hands, leaving you free to focus on serving customers and growing your business. We'll install and upgrade your network, voice and data systems and security to help you operate, communicate and collaborate effectively both today and tomorrow.
We're experts in large-scale deployments across dispersed locations. Both new location openings and technology retrofits are our specialties, as are mobile deployments and cellular strategies.
Learn More
With locations spread all over the place, it's critical that every remote network runs at peak performance. When it comes to serving customers, there's no time for downtime. Trextel keeps all your remote locations running at peak performance, with monitoring and management for every layer of your IT and network infrastructure.
Learn More
"Trextel's team helped us plan our deployment across 200 store locations. They planned for everything and as a result, we were up and running a week ahead of schedule."
Gayle M.
---
Use Case

Trextel Saves the Day for Large Restaurant Chain


Sometimes a large restaurant chain decides to make sweeping change to its menu and look. One national chain decided to capitalize on the national coffee craze, a decision that affected 13,000 of its locations. Midway through the process, Trextel came in as a partner to salvage the project that was behind schedule and over budget. In just over two months, Trextel made more than 5,500 site visits, two at each of 2,700 locations, installing 40-inch digital menu boards, digital servers, electrical outlets, structured cabling and access points for Wi-Fi connectivity—a total technology solution that was delivered on time, within budget and to the client's complete satisfaction.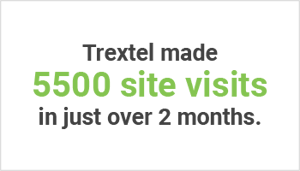 The Trextel multi-technology solution demonstrated:
Flexibility: Since many of the restaurants were open 24 hours, installations were strategically timed in the middle of the night or even after breakfast and lunch rushes.
Scalability: Trextel quickly ramped up operations to meet the daily challenges and growth of each location.
Fast deployment: Trextel delivered a solution in just over two months, well ahead of schedule, exceeding expectations.
Success rate: Trextel had a 98% success rate, the highest of all five vendors involved in this massive project.
---
SOLUTIONS REQUIRED
Digital Signage
Wireless LAN
Infrastructure Cabling
Electrical